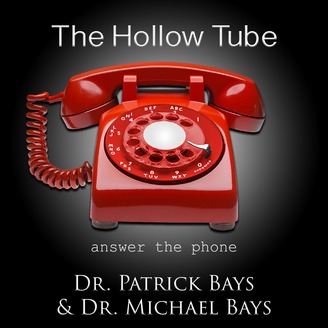 Podcast: Play in new window | Download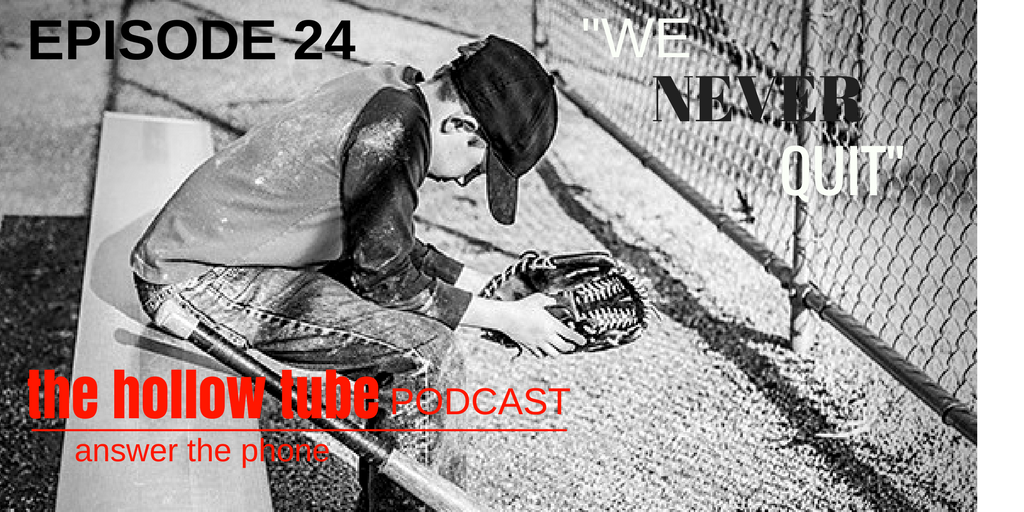 Today's Episode:
Welcome to the Hollow Tube. We are back. Patrick had a conference in Chicago and Michael also went to a conference in Santa Barbara. Kaci is not with us tonight, but we enjoyed the last episode with her and would love to hear your feedback. Michael and his family went to a pumpkin patch today.
The event that Michael went to was a Bo Eason event in Santa Barbara. He took Kaci to Santa Barbara with him and they both loved Santa Barbara. There were piano's on the corners, and Kaci and Michael sang karaoke. Michael thought the Bo Eason event was inspiring and Patrick is planning on attending the next one.
Michael shares a lot about the event, and we talk about finding your true story. The story Michael chose was when he started ditching baseball practice because he dreaded having to play. His mother told him that "we don't quit" and those words have stuck with him throughout his life.  
We also talk about becoming an expert and putting in the time and the 10,000 hour rule. Natural innate talent also plays a role when becoming an expert. We also talk about trying different things to find your passion. Unlocking your aptitude is the key. Not everyone will have the genetic predisposition to be a prodigy, but they can become proficient. We talk about this and more.
Topics Discussed Today
[04:21] Last week Michael went to Santa Barbara to a Bo Eason personal story power event. Bo is a former quarterback for the Houston Oilers and his brother Tony was a quarterback for the Patriots. Bo was taken out with a knee injury.
[05:45] Bo began acting and wrote a one-man play. His synopsis was what if he ever played against his brother, but they never played against each other.
[07:06] Bo thought Al Pacino was the greatest stage actor and went to talk to him because to be the best you learn from the best. Al's advice was to be on stage for hours. Repetition is what makes us the best.
[08:17] How Bo's play "Runt of the Litter" is going to be turned into a movie.
[09:22] How Santa Barbara is a great place with a tiny airport and a small town feel. The weather is perfect and the street corners have pianos on them and homeless people play them in the mornings.
[11:16] How every talk needs to start with a personal story and the more vulnerable the better.
[16:57] Finding your one true statement or something that was life transforming that probably happened when you were a kid.
[17:34] At the event they wrote their story from another person's perspective and then presented it.
[21:50] When Michael was 9 years old he walked in the door just as his mom was hanging up the phone. Then she turned and said, "you sit your ass down." Michael's baseball coach had just told his mom that he wasn't going to practice.
[23:40] Michael dreaded playing outfield and the crack of the bat because his vision wasn't that good. One time the ball even hit him on the top of the head. He only batted once during the game.
[25:48] How Michael's mom told Michael that they don't quit. He had to go back and finish and never quitting has stuck with him for the rest of his life.
[31:41] How it takes 10,000 hours to become an expert. Although, innate skill has a role in certain things.
[34:26] Finding what you can be best in and then do the 10,000 hours and 10 years.
[37:33] Finding the perfect combination of mental aptitude, genetic predisposition, and your environment.
[38:10] Just sitting around watching TV or social media won't get us anywhere.
[38:29] Getting up everyday and finding something to be great at. Finding the key to success and a goal. Finding the proper path to take.
[42:10] How everyone who is good at something aspires to be good at something else. Knowing the exact right thing to do.
[45:34] How Tiger Woods changed everything about his already great golf swing and got even better.
[47:27] How it is all about focus and distractions can take you out of your game.
[53:51] If things aren't feeling right we need to make adjustments whether in sports or life. NQR means not quite right.
[55:40] Synchronicity and getting into flow and going into your cocoon and getting back in synchronicity.
[57:54] Patrick's fortress of solitude or office on Bainbridge Island. He got it just how he wanted it, and then he was getting messages that his office was on fire. His office really was on fire.
[01:01:10] His office was ground zero for the fire. He had left a candle lit and it burned through the glass and caught the buffet on fire.
[01:03:01] The firefighters did everything they could to save Patrick's office and his girlfriend Dana was saving residents of the mixed purpose building.
[01:04:58] Everything ended up being OK and no one got hurt, and Patrick's office was insured so he can redo it.
[01:06:32] Servepro is helping to bring Patrick's office back to life. Fires started by candles are really common.
[01:09:36] Dana's words of wisdom – "Always live in the moment."
[01:10:56] Sue used the affirmation challenge to stop smoking. Katy who was shot in Las Vegas is doing better. Your type ones appear at your side. Shout out to Tom.
Links and Resources:
Uncle Michael @TheHollowTube on Twitter
Uncle Michael @TheHollowTube on Instagram
Michael Bays on Facebook
The Hollow Tube Facebook Page
Bo Eason Personal Story Power Event
Runt of the Litter Bo Eason
Viktor Frankl
Peak: Secrets from the New Science of Expertise
On Writing Stephen King
Michael Jordan
Galileo
Charles Dicken
Leo Tolstoy
William Shakespeare
Tim Tebow
Don Quixote Cervantes
Steve Young
Joe Montana
Tom Brady
Miyamoto Musashi
Tiger Woods
Jack Nicklaus
Tom Dempsey
Servepro
Quotes:
"Sometimes it takes just a little bit of coaching. It can't always be natural innate ability. " Dr. Patrick Bays
"The closest thing I ever got to a hit was a foul ball" Dr. Michael Bays
"Sometimes you need to go to someone who has the expertise to take you to the next leve." Dr. Patrick Bays
"We don't quit. We keep going until we can't go on any longer." Dr. Michael Bays