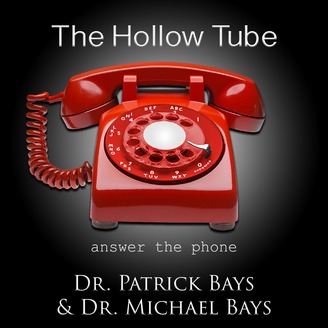 009- Simplicity, Momentum and Deloading
Podcast: Play in new window | Download
Welcome to episode 9 of The Hollow Tube Podcast, the podcast that answers the question of what if? Michael has just returned from a week in Ecuador, where life is simpler. Where he was staying, there was no TV, Wi-Fi, or refrigerators. It was similar to camping in a house. Yet, the people were happy living these simple lives.
When he returned home, he struggled with getting back to his normal routine. He had long work days, and found it hard to fit in his fitness routines along with his normal reading and writing. He also felt guilty about not being able to do everything that he had been doing. He really needed to take a week off from most hobbies and chill. This was the catalyst for today's show about simplicity, momentum, and deloading.
Today, we talk about making life simpler, gaining and losing momentum. Deloading and taking the time to recharge. The demands of being a doctor, and Patrick's memorization techniques that he used for medical school, residency and today. We also talk about the struggle for balance. Mental, physical, economic, and spiritual needs. How relationship issues can be caused by problems with money and more.
Topics Discussed Today
[03:36] Michael's active fitness routine and how he needs to get back into his momentum after his trip to Ecuador.
[07:15] How keeping going prevents the momentum from stopping. Type B is one that takes momentum. Type C is someone who just lounges around on the couch.
[08:32] Orangetheory and keeping your heart rate up.
[10:09] Michael dreads his once a week hot yoga class, it kicks his butt.
[11:22] Deloading is used in athletic conditioning, but it is a back-off week or reloading week. To prepare the body for the next phase or increase in training.
[12:03] Deloading for a week helped Michael feel better and gain momentum.
[13:13] The best weeks for Patrick are weeks when a lot of things cancel or settle. He gets paid, even though, the trial was canceled.
[16:17] Patrick's process for preparing for a case.
[16:56] Deep learning or inputting data into the brain so that it can be found in a specific compartment at any given time.
[17:52] How The Memory Book helped Patrick with learning and memorization.
[18:33] Ancient orators transmitted knowledge through talking, they would remember the theories by using terms from their homes.
[20:21] Using this technique can help you recall anything by just walking through a building.
[21:13] Other systems for memorization by turning numbers into vowels and converting numbers into words and stories.
[22:14] How Patrick can read through a chart a make a one-page cheat sheet.
[25:34] How things are never perfectly in balance. Something is always requiring more. Life is never in balance, it is always on a sliding scale.
[26:47] Patrick looks at balance like a triangle. Mental and physical, economic, and spiritual all need to be kept in the triangle.
[28:16] Relationship problems coming from attention, energy, and money.
[30:55] The guiding light in the center of all of it and all the prongs of the triangle are pointing at this light.
[31:42] Look at your life as a triangle to simplify. Continuous improvement.
[33:03] Getting rid of distractions and starting with your ethos and compartmentalization. Take data that is not positive and compartmentalize.
[34:02] Take all of the bad things and put them in one part of your brain and focus on the positive. Bill Clinton and Viktor Frankl were masters at this.
[35:39] Mass, velocity, and momentum. Momentum either requires a great deal of mass or velocity to have momentum moving forward.
[37:21] Highly incentivized people have an internal force like Michael Jordan and Muhammad Ali.
[38:06] Passion or discipline will help you blow through momentum.
[46:16] Sailing and Patrick and Michael's brother Randy.
[54:09] Regaining discipline when the momentum stops or gets derailed. There has to be a reason and internal motivation. Making it easier also helps. Scheduling a regular time helps.
[56:19] Removing barriers to accomplish what you want to do. Complexity is the enemy of execution.
[58:53] Consistency and developing a routine.
Links and Resources:
Essentials of Strength Training and Conditioning
The Memory Book
The Drive Within Me
Quotes:
"I live in a big house with just me and the birds and flowers. I'm the one who has the simple life." Dr. Patrick Bays
"It takes a lot of momentum for me to keep going. If I stop, I'm at a dead stop." Michael Bays
"If you don't deload, something is going to happen to make you deload." Michael Bays