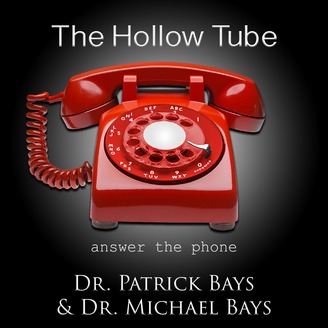 013 – The Two Millimeter Technique
Podcast: Play in new window | Download
Welcome to episode 13 of The Hollow Tube podcast with Dr. Michael Bays and Dr. Patrick Bays. On today's show, we kick things off with Patrick's excitement about the Elio three wheeled vehicle. This would be the perfect vehicle for a commuter in Seattle because it is enclosed and offers protection from the rain, and one axle three wheeled vehicles get to board the ferry first. We also discuss using a car as a makeshift office and benefits of having Wi-Fi and the pros and cons of crowdsourcing.
We then discuss the new Game of Thrones episode and a possible spoiler about Sam. We talk about the benefits of high-intensity interval training or HIIT workouts, and how they can benefit mitochondrial and skeletal muscle growth. Especially, as we age. We briefly discuss how MDMA may be recategorized to become a legal way to treat PTSD and the categories of drugs. Then we move on to movies that were fun or inspirational, and how changing your physical body can change your emotions and mood.
We also discuss streaks and the tension that can be created by the process. Marketers use many tricks to get us to buy things that we don't necessarily need. We need to be on guard for possible tricks and manipulation. We talk about calming and simplifying our minds. We also discuss intuition and listening to our intuition. Patrick shares an experience where he was able to step outside of himself, and Michael shares a story from South America where he made a decision based on his intuition and ended up not getting robbed. We talk about this and listening to and using the subtle cues in life, quieting our minds and more.
Topics Discussed Today
[03:34] The three wheeled Elio commuter vehicle. An advantage of using this in Seattle, where it rains a lot, is that it is enclosed. Three wheeled vehicles get on the ferry first.
[07:56] Leaving your car parked in Bainbridge and walking onto the ferry. Having a car as an accessory office.
[08:45] Advantages of having Wi-Fi in your car and integrated audio.
[09:24] Risks of crowdfunding and how sometimes if the product is not produced the deposits could be lost.
[10:17] Revolutionizing the way people drive while conserving energy.
[10:56] Watching Game of Thrones twice, and hiring a bouncer to stand outside and prevent interruptions.
[12:04] Possible spoiler that Sam is the author of the entire Game of Thrones legacy.
[13:00] Great idea for a possible spin off and GOT prequel.
[15:22] Being emotionally invested in Game of Thrones.
[15:52] Keeping Game of Thrones real with uncomfortable scenes based on reality.
[16:48] Best way to stay young, healthy, and smart is to keep moving with high-intensity interval training.
[18:01] HIIT research by MacDougall showed that after 12 weeks of training there was an increase in muscle enzymes and mitochondria.
[19:25] Importance of breathing oxygen and ATP and biogenesis which allows us to increase the density and mass of our mitochondria.
[20:12] As we age keeping mitochondrial up is important. HIIT can help. 4-10 sets of 30-second intervals.
[21:57] MDMA may become legal for the treatment of PTSD.
[23:53] Drug categories and how a category 1 drug has hardly ever become a category 3.
[25:53] Drug categories can transition even to an over the counter drug.
[26:51] Neurotransmitters and specific responses.
[27:37] James McAvoy and changing his physical state to change his emotional state
[29:24] Stephen Hawking and The Theory of Everything
[30:07] Physical changes and how they affect our moods and how we feel.
[31:52] Countering gravity, standing up straight, and hot yoga.
[33:07] The beast in Split – "the broken human beings are more evolved."
[33:43] Becoming stronger by coming out of difficult situations.
[34:48] How big technology companies try to find ways to manipulate people who use their apps. Using streaks to keep people interested.
[36:20] People are innately competitive, we are a society of streaks and records.
[37:03] Digging into the reptilian brain and causing tension. Intentionally breaking streaks to not get caught up in it.
[39:29] The main streak that Patrick is concerned about is his heart.
[40:38] Marketers getting someone to do something that is not a need.
[42:06] Going through your hollow tube and finding a balance between resources and things that try to capture your attention.
[42:36] Simplify your mind to use and follow your intuition.
[43:58] Stepping out of your mind and looking objectively and understanding yourself.
[47:46] Being able to perceive the subtle cues that the universe gives you and use your perception.
[51:05] Patrick had a close call with an owl which Michael calls "the messenger of the spirit world."
[53:23] Michael shares a funny story about Orangetheory when he arrived late and it was completely dark except for low neon lights
Links and Resources:
Elio Motors
Game of Thrones
High-intensity interval training (HIIT)
MDMA
Night Shyamalan
Split
James McAvoy
Stephen Hawking
The Theory of Everything
Unbroken
Nietzsche Quotes
Snapchat
Calm
Orangetheory
Uncle Michael @TheHollowTube on Twitter
Uncle Michael @TheHollowTube on Instagram
Michael Bays on Facebook
Quotes:
"Pulling your body upwards, we have better posture and are able to breath better." Dr. Patrick Bays
"A two millimeter change in the way you hold your chest can make you feel confident." Dr. Michael Bays
"The most powerful force known to man is gravity." Dr. Patrick Bays
"I remind myself to carry myself with a confident posture." Dr. Michael Bays