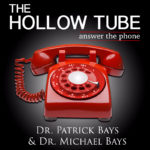 075 – Staying Centered In A Chaotic World with Jack Elias
Podcast: Play in new window | Download
"Deluded thinking blurs our conscientiousness from being able to see things the way they are." Listen as hosts Michael and Patrick Bays, and friend and personal mentor Jack Elias discuss simple coping strategies we can take when we are feeling anxious, how can our emotions and feelings delude us, how can we use our external perception and internal perception to take the best action under any circumstance and much more on this episode of The Hollow Tube.
Jack is a Zen Buddhist practitioner and master hypnotherapist. Jack lives in Seattle, where he founded the Institute For Therapeutic Learning, and he teaches a certification program and Transpersonal Hypnotherapy and Neuro-Linguistic Programing. Jack was previously in episode 71, but we felt that this was a perfect time to bring him back because maybe we are all feeling a little stressed. 
Jack shares that to mitigate these feelings of uncertainty and stress during this pandemic is to be kind, patient, and compassionate with yourself. Do you think emotions make you weak? Listen as Jack dispels that notion and explains why moralistic thinking makes it very hard to make changes.
"When in doubt, relax and repeat to yourself, fear never helps." Pat shares how he handles issues and needs to solve the problem in front of you first. Jack believes that we are in a hypnotic state all the time, and he describes the different hypnotic states. He also shares that when you are open to other realms, it is important to ask for precisely what you want.
Remember to be aware of hypnotizing thoughts and realize that we can waste a lot of energy and clarity of mind on worry and fear and when in doubt, when you are anxious or tense, use that state of being as a trigger to physically relax and tell yourself that fear never helps. Remember to repeat this mantra, "may my every thought, word, and deed be for the supreme benefit of myself and all beings." 
Topics Discussed Today
[09:15] Welcome to the show, Jack!
[10:41] Jack shares ways to mitigate some feelings of stress during these times of uncertainty.
[13:40] Have you been trained to think emotions make you weak?
[15:31] Jack believes that the first thing you can do when you are feeling anxiety is to relax and turn your attention inward. 
[18:04] Jack says that moralistic thinking makes it very hard to make a change.
[20:53] Bravery is acting with clarity by moving the fear to the side as best you can.
[21:57] Pat shares how he has been dealing with coronavirus.
[24:23] Jack gives Michael some things to try when he feels fear about the pandemic.
[26:10] When in doubt, relax and repeat to yourself, fear never helps.
[28:31] Pat shares how he addresses an issue as he is sinking into the darkness.
[31:11] Having empathy has nothing to do with being afraid. 
[34:11] Jack advises people to relax into your heart and ask what would be the best action to take. He explains what he means.
[37:11] Jack says that life is a gift, and you are being birthed moment by moment by life itself.
[40:02] Pat says to solve the problem that is in front of you.
[43:16] Are you so overwhelmed with taking care of the day to day that you can't see down the road?
[45:06] The heart is the center once the heartbeats you have life; once it stops, you have death.
[48:00] Jack speaks about self-hypnosis and meditation and how he feels we are hypnotized all the time.
[51:09] Listen, as Jack discusses how he sees the different hypnotic states.
[53:20] When you are open to other realms, it's essential to ask for precisely what you want.
[56:39] Michael speaks about the truth being irrelevant, its perception that matters.
[57:59] Jack shares about spending two years in court around a big corporation.
[1:00:45] Michael talks about teaching doctors about gaining credibility.
[1:02:21] Jack shares things we all can do to stay in our heart space and relax during this time of stress and uncertainty.
[1:04:33] Jack speaks about his in-person workshops that have been put on hold during this pandemic.
[1:06:26] Thank you for being on the show!
Links and Resources:
Uncle Michael @TheHollowTube on Twitter
Uncle Michael @TheHollowTube on Instagram
Michael Bays on Facebook
The Hollow Tube Facebook Page
CurePoint Orthopedic
Find Jack:
Jack Elias
Email
Finding True Magic by Jack Elias
Jack Elias on Twitter
Jack Elias on Facebook
Jack Elias on LinkedIn
If you enjoyed this podcast, please tell a friend. You can download our 40 Day Affirmation Challenge at The Hollow Tube. You can also look us up on Facebook, Twitter, and Instagram.