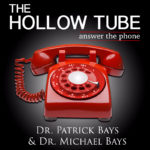 074 – "The Power of Shamanism" with Sandra Ingerman
Podcast: Play in new window | Download
Have you ever felt that life was knocking you down faster than you could get up? Listen as Michael and his guest Sandra Ingerman, one of the best-known shamans in the western world, discuss her incredible journey to shamanism, what shamanism is, and much more on this episode of The Hollow Tube.
Sandra is a world-renown teacher of shamanism and has been lecturing and teaching for almost forty years. She is an award-winning author of twelve books including Awakening Into The Spirit World, Soul Retrieval, Medicine For The Earth, and her latest book The Book of Ceremony. Sandra is also the co-host of the podcast The Shaman's Cave.
Listen as Sandra shares how she found shamanism and why she dedicated her life to serving people, the healing methods that the helping spirits bring to the shaman, and how children are taught the discipline of how to speak words of power. Shamanism teaches that our thoughts act as psychic darts so you have to be careful of what you put out in the universe.
"Ceremony is the vehicle for the shaman to create change," Sandra speaks about the difference between ritual and ceremony, how to learn forgiveness for people who have wronged you in the most terrible ways, how to forgive those who have passed and most of all how to forgive ourselves. Sandra shares some tools that we all have that can help us lead a shamanic life, but the greatest tool is to get into the flow.
Have you ever asked a tree if it was ok for you to sit under its branches? Or asked the tree about its life? Sandra says once you can open yourself up and commune with nature you will find a peacefulness that you can't imagine. What we have learned from Sandra today is priceless, her shamanic life is one of giving, healing, and nature. You definitely don't want to miss this episode.
Topics Discussed Today
[07:52] Welcome to the show, Sandra!
[08:04] Sandra shares how she found and dedicated her life to shamanism.
[10:25] She speaks about moving to San Francisco and living in a cult in the '70s.
[11:25] Sandra took a workshop on shamanic journeying.
[12:40] What is shamanism? 
[15:15] Sandra shares the healing methods that the helping spirits will bring to the shaman.
[16:34] Shamanism is a way of life.
[18:07] Children were taught the discipline of how to speak words of power and medicine.
[19:44] Shamanism believes that our thoughts can act as psychic darts. 
[21:35] Nature is like family members to shamans which is how they keep harmony and balance.
[22:28] What is the difference between ceremony and ritual?
[24:14] Sandra doesn't have doubts about shamanism but she didn't realize that once she stepped onto this path that her life was no longer her own.
[26:33] She is passionate about her work and is happy she has been able to help so many people.
[28:40] Sandra is trying to figure out how to teach this new generation of shamanism.
[30:20] Can you share about the forgiveness of shamanism?
[33:13] How can people learn to forgive people who have done horrible things to them?
[34:50] Sandra shares how you can forgive someone who has already passed.
[36:46] Sandra speaks about learning to forgive ourselves.
[39:07] She talks about a violent dream she once had.
[41:18] What tools do we have to lead a shamanic life? 
[44:08] Riding the river of life is learning how to think in a way that leads you to your outcome.
[45:54] Sandra shares a practice for us to do that has changed many people's lives.
[48:45] The greatest tool for being able to create your desires is getting into the flow.
[50:02] Once you find your own flow there's not that much that can't be manifested.
[51:01] How do we know when we are in the flow state?
[53:37] Michael shares about his nephew and his medical situation.
[56:38] Is there anything you would like to leave us with?
[58:28] Thank you for being on the show, Sandra!
[58:42] Michael shares some final thoughts about nature.
[59:40] Ritual is an attention amplifier.
[1:00:17] A ceremony is bigger, a special occasion with a before and after.
[1:00:48] Be sure to reach out to Sandra and let her know what you have learned so we can get her back on the show.
[1:02:01] Michael and Pat want to thank all of you for your support.
[1:02:34] If you want to see the sunrise ritual that has changed Michael's life check out Sunrise Supercharge every Wednesday morning at sunrise MST but if you miss it go to  The Hollow Tube podcast page on Facebook Live.
 
Links and Resources:
Uncle Michael @TheHollowTube on Twitter
Uncle Michael @TheHollowTube on Instagram
Michael Bays on Facebook
The Hollow Tube Facebook Page
CurePoint Orthopedic
Find Sandra:
Sandra Ingerman
Global Website of Shamanic Teachers and Practitioners
The Shamans Cave
Books
Awakening The Spirit World
Soul Retrieval
Medicine For The Earth
The Book of Ceremony
If you enjoyed this podcast please tell a friend. You can download our 40 Day Affirmation Challenge at The Hollow Tube. You can also look us up on Facebook, Twitter, and Instagram.