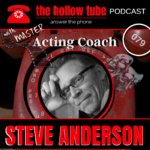 079 – Acting As A Life Skill With Steve Anderson
Podcast: Play in new window | Download
Steve Anderson is an actor, director, coach, and acting teacher. He's taught Michael about awareness, relaxation, presence, appreciation, focus, listening, and stillness. Consciously practicing these techniques has made him a better speaker with no panic attacks, a better doctor, and a better husband and father. Relationships have also improved, and it's become easier to achieve balance and flow despite the chaos of life. Steve has been training actors for 25 years. He has been a guest artist at Clemson University, the University of Wisconsin-Green Bay, and the University of Wisconsin-River Falls. He taught Acting, Relaxation for the Performer, and Stage Combat.
He's also been contracted by the University of Arizona to teach stage presence for public speakers. He directed The Secret Lives of Teachers and Lucky U Ranch. He's worked off-Broadway, has received numerous awards, and has an MFA in Acting from the Professional Theater Training Program at Brandeis University. This is one of the most informational podcasts that we've done regarding skills that affect your professional and personal life. Steve kicks off the show by explaining what acting is. 
We then talk about valuing impulses and trusting your sixth sense. Actors and public speakers need to be prepared to follow their intuition and be ready for surprises that may come up. We talk about clarity, having a presence, and how important it is to be interested in your topic to be interesting. Steve shares the importance of being relaxed, centered, and grounded and how sometimes we don't realize that the tension is there until it's gone. This episode will help public speakers, actors, expert witnesses, and anyone who wants more connection in life. 
Topics Discussed Today
[07:08] Acting is living under imaginary circumstances. It's a person in a place dealing with something who needs something. That's what causes all of the action, staging, and dialogue.
[08:36] It's not about demonstrating or showing what you're doing. It's about getting your focus outside yourself and getting involved in the doing part.
[10:13] It's important for an actor or a public speaker to value their own impulses. The sixth sense.
[12:09] When you don't understand your intuition, you should still go with it. Follow that impulse.
[15:00] Clarity is incredibly important for actors. The second you have clarity your presence takes off. We can relax when we have full clarity of intention and our presence will grow.
[19:22] The level of interest you have and what you're doing is equal to the level of interest the audience has in you when you're a speaker or an actor.
[23:15] You can go through life and not even realize that you have tension in your body until you feel the lack of tension.
[26:24] Being relaxed, centered, grounded, and focused is what makes athletes responsive. Great athletes live in the moment, they aren't stuck. 
[29:00] Public speakers and actors need to stay out of their heads. Focus on the positive, that's where the energy goes.
[31:01] Every character sees the world through their individual filter. It's the actors job to find and see through that filter.
[37:28] As an expert witness, you have to believe what you're saying and be clear and believable to the jury and connect with them. 
[38:27] Whenever Steve wants someone to be present he asks them what it smells like there. Smelling is a tangible thing that you are doing.
[44:19] We are better at what we are doing if we are prepared for it. Then we have the mental capacity to deal with the unknown.
[48:45] Daniel Day-Lewis prepared for the movie Lincoln by spending a year texting in Old English.
[53:38] You can affect other people without knowing it if you're not very mindful or conscious. Getting grounded can improve your relationships.
[58:26] The key to success is tactical empathy which is seeing, feeling, tasting, touching, etcetera.
[01:00:38] A lot of people don't realize that actor training is about living and humanity.
[01:09:16] Sunrise Supercharge. Every Wednesday Michael and a few friends go through a series of breathing and grounding techniques. They tap into gratitude and call in their ancestors and spirit helpers. They create a sacred hoop for problem solving and healing. They enter the flow state or the hollow tube state.
Links and Resources:
Uncle Michael @TheHollowTube on Twitter
Uncle Michael @TheHollowTube on Instagram
Actor Training & Coffee Talk Online
057 – The Black Swan: with Brandon Voss
Quotes:
"So, you want something. Once you figure out what you're doing about it, then the job of the actor is to get involved in that doing. Just like in life. We tend to experience life through the senses." Steve Anderson
"A lot of people think acting is just doing good line readings and good staging and making it look cool, but what we're really doing is seeing, tasting, touching, smelling, and allowing ourselves to observe the world around us from the outside in." Steve Anderson
"It's important to have a clear vision of where you are heading and what your desires are in life. There's so much cross correlation between the way we live our life and acting and improv." Dr. Michael Bays
"You have to believe what you're saying. If you're believable, and you come across crystal clear to the jurors and don't talk down to them or over their heads, you'll find that sweet spot where they know that you appreciate them." Dr. Patrick Bays
If you enjoyed this podcast please tell a friend. You can download our 40 Day Affirmation Challenge at The Hollow Tube. You can also look us up on Facebook, Twitter, and Instagram.