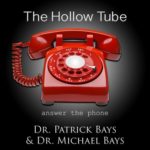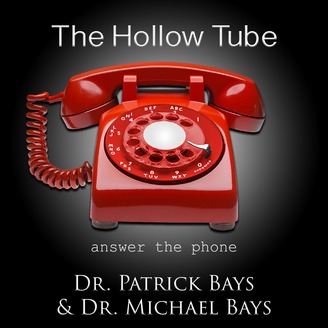 057 – The Black Swan: with Brandon Voss
Podcast: Play in new window | Download
Remember that book Pat and I were raving about, "Never Split the Difference" written by the former FBI hostage negotiator, Chris Voss? Brandon Voss is his son, and he's the unsung hero behind the book. The book never would have happened without him.
Brandon and his dad, Chris built their company, the Black Swan Group from the ground up. The Black Swan where Fortune 500 companies send their leaders to learn the art and science of negotiation.

Every father wants to be their son's hero, and every son wants his dad to be proud of him and on this episode of The Hollow Tube were going to bring you a son who made his father very proud. This week on the Hollow Tube we bring you Brandon Voss, Director of Operations of The Black Swan Group.

Ever wonder what it would be like to have an FBI Hostage negotiator for a dad? Brandon's going to tell us. He's also going explain some of the subtleties of negotiation skills, such as mirroring, labeling and how to discover the Black Swan.
We'll learn how these Jedi mind tricks can help us in everyday life. I've used them myself with some great successes and some miserable failures. Brandon explains where I messed up. I really enjoyed talking to Brandon. He's cool, funny and he made these negotiation concepts easy for me to understand with real life examples.
Topics Discussed Today
[05:52] The closeness and camaraderie between Brandon and his dad reminds Michael of the closeness he has with Parker.
[07:28] Brandon was an only child. Even though, he wanted siblings he now cherishes his childhood.
[08:22] Using that's right as opposed to you're right. From a negotiation context, you want to create the feeling and emotion of that's right.
[10:37] Brandon talks about getting out of people's way as a linebacker and how it made him feel and using the term that's right.
[11:22] Brandon has been negotiating with his dad since he was two years old.
[12:07] Brandon talks about how they put the book together. It started with an idea, and then they had to go through several writers.
[13:52] Brandon shares how he got in trouble with the principle for being out of uniform at his school. He was able to talk his way out of it using empathy.
[16:27] Michael explains how he used the same tactic when he was a resident.
[17:04] There is a direct relationship between emotional intelligence and success.
[17:24] Being aware of your own emotions and in control of those emotions no matter what the context.
[17:52] Controlling yourself in the moment is one of the hardest parts of negotiation. You've got to get comfortable with being uncomfortable.
[18:15] The second half of emotional intelligence as being acutely aware of the emotional state of the people in your environment and then being able to influence that emotional state.
[19:22] Vocalize your understanding in words that the person would use themselves.
[21:09] Keep labels or verbal observations neutral.
[22:52] Active listening and asking open ended questions. Be consistent and don't let your own thoughts and your own emotions get in the way.
[24:22] Michael shares a story of how the concepts in the book helped him talk to a patient. The patient's black swan was that he was afraid he would become a burden to his wife when he started having health issues.
[27:04] A black swan is a piece of information that, if discovered, will completely change an outcome.
[29:12] It's human nature to like affirmations and to feel significant.
[29:43] Tactical empathy is the application of emotional intelligence in negotiation.
[30:33] Our version of empathy is similar to cognitive empathy talked about in the book Focus.
[31:13] Brandon and his dad built the business together. They recorded classes at Georgetown. Brandon was a TA and then he filled in for Chris.
[32:33] Brandon tells a story about the first time he filled in for his dad. He was actually in the process of working on a camera issue and his dad wanted him to come down and explain a case study.
[33:22] They now teach the workshops together. They always have two instructors and teach as a team, because they play off of each other well.
[35:07] To retain the information they encourage people to choose one skill and work on it on one day of the week.
[37:14] Practicing on a significant other is probably the most difficult of all.
[38:01] Brandon is about to get married and his future wife is also their director of marketing.
[40:55] People don't make you mad. Chemical reactions happen internally. You can control them, to some degree.
[41:44] Michael talks about the sweat lodges and medicine man Willem Wout De Klerk and how he talks about dropping blame and breathing before reacting.
[46:12] Sign up for the Black Swan Newsletter to find out about any upcoming events.
[46:25] At the events, they survey the group to get a feel for any communication challenges that they might have. They then use that information to build exercises.
[47:45] Check yourself before you wreck yourself. Self-awareness is critical.
[49:26] Use tactical empathy to get leverage. Understand where the other person is coming from even if you don't agree with their point of view.
[50:06] Forget about being right. You're right often means the person is giving power to you while protecting themselves. It also means the conversation is over.
[51:43] Pick a day of the week to work on a different skill.
Monday – Mirroring

Tuesday – Labeling

Wednesday – Ask Calibrated Questions

Thursday – Go for a That's Right

Friday Night – You can work on your late night FM Radio DJ voice

Remember- slow it down
[52:44] Brandon gives a shout out to his fiancée and his audio engineer back in the day.
[54:41] Thanks to Jane and Sue from Scottsdale, Chris and Jamie from Tucson, Melissa from Missouri, and Karla from Arkansas.
[53:00] Internationally, we thank our friends from France, Russia, India, and Ireland.
Links and Resources:
Uncle Michael @TheHollowTube on Twitter
Uncle Michael @TheHollowTube on Instagram
Michael Bays on Facebook
The Hollow Tube Facebook Page
Episode 54 Negotiating As If Your Life Depended On It
Never Split the Difference
The Black Swan Group
Focus: The Hidden Driver of Excellence
@BVoss1 on Twitter
@VossNegotiation on Twitter
The Black Swan Group on Facebook
Never Eat Alone, Expanded and Updated: And Other Secrets to Success, One Relationship at a Time
Episode 50 Interview With a Medicine Man Willem Wout De Klerk
Black Swan Newsletter
Quotes:
"My father is there when I need him. His mentorship and our closeness lifts me up." Brandon Voss
"My parents worked really hard to instill good values in me." Brandon Voss
"Use emotional intelligence and explain that you understand why the person is unhappy and then just go silent." Brandon Voss
If you enjoyed this podcast please tell a friend. You can download our 40 Day Affirmation Challenge at The Hollow Tube. You can also look us up on Facebook, Twitter, and Instagram.