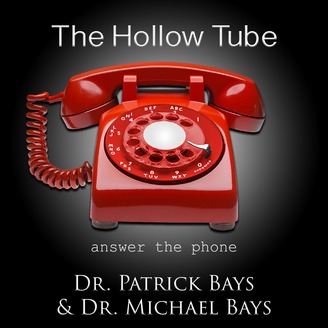 031 – When the Hollow Tube Opens
Podcast: Play in new window | Download
Last week, Michael had a very interesting conversation with a student, athlete, and musician whose dad had a massive stroke that affected the entire families lives. Patrick wasn't able to take part in last week's episode. Michael felt that something was missing when he listened back to the episode. He didn't give a lot of advice, because he just wanted Scott to feel that he was in a place where he could speak.
Michael has some notes to offer Scott and others who have had loved ones who have gone through a severe health crisis. We also don't advocate drugs or alcohol in any form for adolescents, especially in times of trauma and emotional suffering. We do recognize that sometimes these are thing people turn to, and we are non-judgemental about that.   
Topics Discussed Today
[00:06:24] How Michael was close to his grandmother Dom. She moved to San Diego and was a house mother for a sorority. She was Michael's biggest champion.
[00:07:16] He remembers going to Circle K and buying Coors and mini Coors and Cheetos and sitting on the porch and dancing to the radio. It was a beautiful perfect moment where he was loved for being him.
[00:08:25] When she was diagnosed with lung cancer she came and lived with them and Michael was in so much pain watching the person he loved more than anyone in the world going through cancers. He went through all of the stages of grief, and smoked weed and did anything he could to not feel it. He regrets  not allowing himself to go through that process with her.
[00:11:21] Ignoring are problems only create a tendency for them to grow and become more complex.
[00:12:10] How pharmacological agents can help heal maladies, but they have secondary effects on the brain. People take things during despair to help them feel better, but we need to deal with things with honest open minds.
[00:13:02] The importance of finding a friend or mentor to walk you through the difficult things.
[00:13:23] Medicating it away prolongs the time it takes to go through the phases of mourning.
[00:14:48] The way we think life should be and the way life is. Then we have to change our blueprint or life conditions. We need to allow ourselves to experience life and how we deal with it.
[00:15:29] 100% responsibility is our biggest power.
[00:18:56] We learn more from our failures than our success.
[00:19:17] When you are ready to grow you pick up a heavy burden and carry it.
[00:22:00] How your faith can be tested when faced with these life challenges.
[00:30:08] Scott needs to keep the mantra that he is courage, faith, and compassion to enable him to grow.
[00:33:38] The moment Scott realized that he was transforming from a child to an adult was when he held his mother and she felt fragile. All the rules had suddenly changed.
[00:34:36] How Scott is on the hero's journey and on his way to becoming a man.
[00:34:56] Scott should talk to his dad and let him know how much he appreciates his dad's strength and courage. Also, write a song for his dad to bring him healing.
[00:35:47] Elevating other people and helping them find the greatness in their lives. Changing our mental viewpoint from expectation to appreciation.
[00:36:42] The importance to adding value and bringing something to the table first to get what you want.
[00:37:13] Making yourself into an expert at something that adds value to other people.
[00:38:37] Having a passion that enhances the lives of others. For guys women will buy into a man with a mission
[00:40:17] How Chad is at the precipice of becoming the person he wants to be.
[00:40:45] How Michael's mission statement is to be a student, healer, and teacher.
[00:41:48] Choosing values that will propel you forward. Passion is directed energy and enthusiasm. Health is the foundation. Having confidence in your projects.
[00:43:18] Motion equals emotion. How Michael went to the Tony Robbins Date With Destiny and he will have Kacy on a future episode to talk about their experience.
[00:44:35] How we are all heading to our one true north. Have a vision for yourself.
[00:49:48] How jumping into the unknown is like drowning. Looking at it from different perspectives and whatever happens you will be OK.
[00:50:44] How all of the things that Tony Robbins suggested were things that Patrick has been saying for years.
[00:51:21] Tony Robbins is like a portal master that guides you towards the hollow tube.
[00:53:24] How the hollow tube is a baggage free zone. Anything that holds you back is slowing you down. Just like friction and gravity.
[00:58:24] The importance of always leaving a way out.
[00:58:52] Producing things and putting in the time to show how serious you are about your goals. Also, consider taping a gap year.
[01:00:20] Kacy feels Scott needs to be prepared for obstacles and hardships because a musicians lifestyle can be difficult.
[01:03:00] Being pragmatic and merging both systems of your dream and an alternate plan.
[01:03:25] Michael is committed to get the book done before the Bo Eason event.
[01:04:07] How perfectionism is the bane of productivity.
[01:05:10] Shout out to Scott Golden!
[01:06:20] Changing ourselves by saying these words and becoming more vulnerable on our own hero's journey.
Links and Resources:
Uncle Michael @TheHollowTube on Twitter
Uncle Michael @TheHollowTube on Instagram
Michael Bays on Facebook
The Hollow Tube Facebook Page
030 – Road to Recovery
Elisabeth Kubler-Ross
029 – A Moment of Clarity
006- Using Creed and Ethos to Create a Life Vision
Date with Destiny
Darwin
Tanmeet Sethi M.D.
Jordan B. Peterson
Bo Eason
Circa 79
Quotes:
"As healers we take the hippocratic oath to do no harm. It's difficult to make rational reasonable assessments about your situation if your brain is under the influence of any mind altering substances." Dr. Patrick Bays
"Now we live in a society where people are medicating themselves just to get through day-to-day life." Dr. Michael Bays
"We all deal with things in our own way and in our own moment in time and there is no right or wrong thing to do." Dr. Patrick Bays
"What if I could have instead felt those feelings I was supposed to feel and actually taken responsibility and stepped up and helped mom deal with everything." Dr. Michael Bays